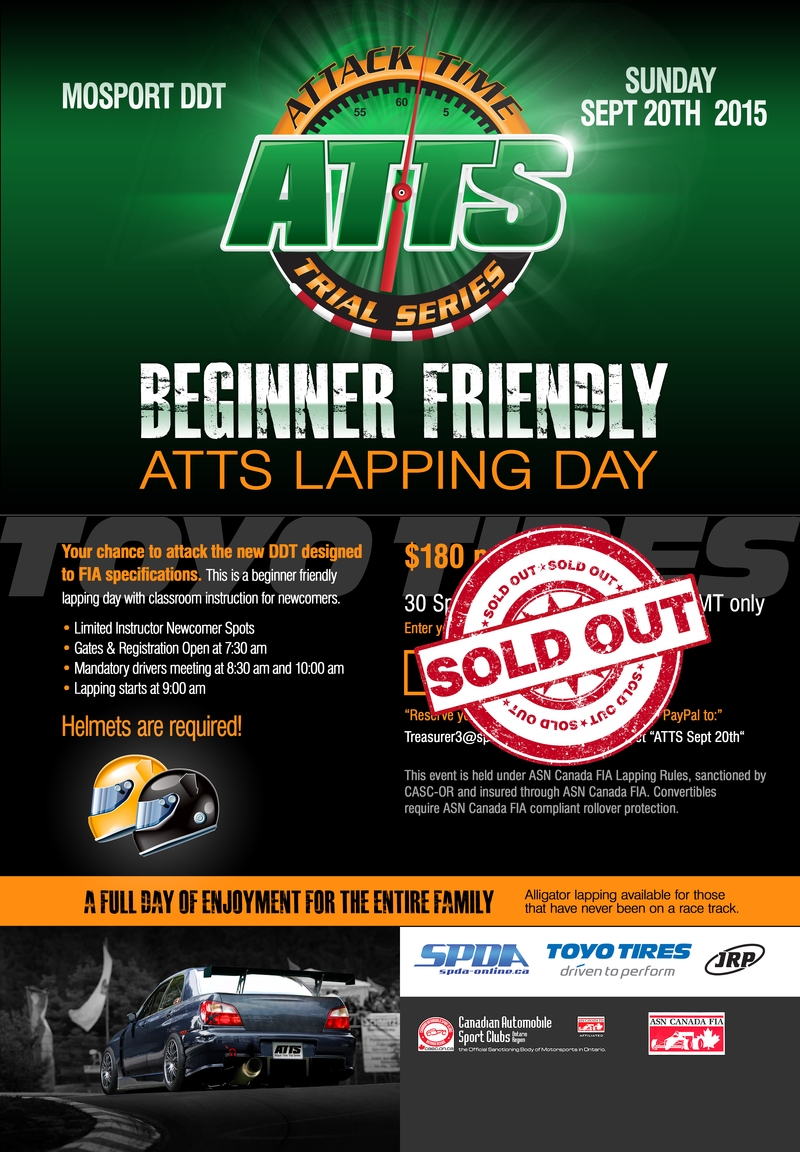 Spots go on sale immediately for the ATTS Beginner Friendly Track Day brought to you by SPDA-Online, in cooperation with the
www.Ontario1500.ca
Experience the Driver Development Track at Canadian Tire Motorsports Park (Mosport). This is a challenging 2.8Km track, redesigned and rebuilt two years ago. To make this day extra special, we're providing coaching for newcomers to motorsports. This is not a racing event, but a fun day to spend with friends in a low key lapping event where you can safely enjoy the limits of your vehicles.
ATTS Lapping day #1: May 23, 2015 (We had a blast)
ATTS Lapping day #2: July 12, 2015
Whoot!
There will be 2 SPDA Run groups, broken out by Skill Level:
Intermediate
Advanced
Helmets are required.
We will have Alligator Lapping during lunch time so everyone can experience the track at a leisurely pace.
Registration:
Step 1 - Enter your registration info by filling the form at this link (note: you will redirect to PayPal for payment upon submission of form):
http://tinyurl.com/SPDA-ATTS-Sept20
Step 2 - To reserve your entry by EMT, send your payment to "treasurer3 (at) spda-online (DOT) ca with the title "ATTS Sept 20th"
Price: $180
When sending your payment, include your full name and e-mail address
There are limited spots available. Don't be left out. Register early as we only have 30 spots!:
Entry Fees:
Price $180 Advanced Registration
Lunch
+ $15 for lunch (CTMP catered lunch)
Sharing cars:
+ Full price for another driver in a different run group.
+ $40 for each additional driver in the SAME run group.
Refund Policy:

Refunds are available only if there is someone in the waiting list for your run group to buy the position (inquire with SPDA). Registrations may not be privately re-sold, the registration will remain in your name.